Be anxious for nothing, but in everything by prayer and supplication
with thanksgiving
let your requests be made known to God.
And the peace of God, which surpasses all comprehension,
will guard your hearts and your minds in Christ Jesus.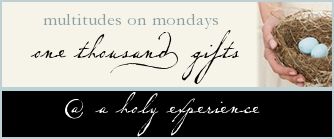 Thousand Endless Gifts
91. old love letters
92. old pictures
93. musing over memories
94. DC Talk
95. the hard stuff that draws them in, instead of pushing them away.
(why are we so afraid of the hard stuff?)
96. tears and repentance...and a new heart
97. my dear sisters in Christ
98. the unique and gentle voice of a dear friend, and her love for my children
99. Mae's arm wrapped around mine
100. we are at a hundred, and there are so many more!